On My Soap Box
Case Study 2 - Behind The Scenes Of Starting a Soap Business.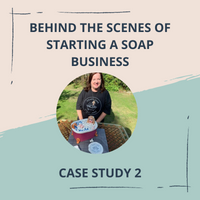 Introducing Jane of Soapy Jane 
I am really happy to be bringing you another case study today. Hearing how others get started on their soap making and take it up to a notch to start a business is a fantastic way to gain inspiration and confidence yourself if you have been thinking about it.
Jane has a lovely soap business born out of her desire to be more eco-concious as well as make some changes in her own life. You can find out more on her website  
www.soapyjane.co.uk
 She is also on Facebook
here
 and Instagram
here
Let's hand over to Jane and find out more.
Why did you decide to learn how to make soap?
My inspiration was seeing a video of a whale who was caught up in fishing nets and lots of plastic bottles, she was eventually freed by 4 divers and afterwards she swam back and nudged each of them in turn as if to say "Thank you."
I had already joined Greenpeace to support the reduction of plastic and as a household my husband and I wanted to reduce our plastic usage. At the same time I was going through a terrible time at work in the NHS with Covid and patients being abusive to all of us on reception and I really needed to help my mental health by doing something creative. I have a background in aromatherapy and beauty therapy so I decided to try to make soap
Q When did you learn and how did you start to learn the process? 
I started September 2021 with a book called Lovely Greens by Tanya Anderson & then bought her online soap making E-book. I then came across you! The Soap Coach and enrolled on The Boot Camp.
Q How long did it take for you to feel confident with what you were doing?  
About 6 months.
Q Have you had any epic fails along the way? 
Yes, several. I dropped a large silicone mould of soap all over the kitchen floor because I was tired, so learnt a valuable lesson - never make soap when you are tired! I also had about 3 batches that had too much lye in and were dry/powdery so had to throw them away. 
Q Was there anything you found particularly challenging and if so how did you overcome this? 
Yes, when using red mica for my personalised soaps, for some reason it sets very quickly and because I pipe patterns I now make sure I always have everything to hand ready to pipe! Also, you never know how a batch of soap is going to behave, it changes when the temperature is cold/hot and so you have to be aware of this all the time.
Q Is there one top tip you would give others looking to learn soap making from scratch? 
Yes, I would recommend you and your fantastic course. You are so easy to follow on your lessons, you are down to earth, no nonsense approach which I love and you are British! Nothing against the American soap makers but the measurements are different and I found this very confusing even when using an online converter. 
Q You have now started your own business which is amazing, tell us more about this and how you made the leap from hobby to business?  
I was very lucky that I was able to reduce my hours in my stressful job in the NHS, so this enabled me to then have the time to start up my soap business. I started giving out samples to my family and friends and thought I can make money from this! I built my own Shopify website with some help of a good friend, so am very proud of myself. 
Q Any tips for other budding soap makers and/or those looking to start their own soap making business? 
Yes, definitely do some sort of course so that you learn the basics, always follow the recipe, it will make you feel excited and you will become obsessed about it and I mean in a very positive way! Also, I am very lucky that I have an amazing hubby to encourage and support me with my new business, so get your family and friends on board to encourage you and ignore anyone that is negative as there is always a few! I am going to do everything I can to make my business work and feel very passionate about it.
I love this, thank you so much Jane. I think many of us share your reasons for starting soap making and also why you are taking it up a level. The Covid years were hard for everyone but for NHS staff the word brutal springs to mind.
Thank you so much for sharing your story and I am looking forward to seeing your business grow.
If you are wondering what the bootcamp is all about this is my Soap Business Boot Camp which covers everything you need to know to get your business off the ground. You can find more details about it here. 
Comments (1 Response)
Leave a comment (all fields required)
Comments will be approved before showing up.