On My Soap Box
5 Tips to Increase Q4 Sales In Your Handmade Soap and Skincare Business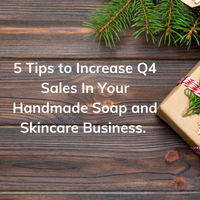 How to sell more of your handmade soap and skincare products in the lead up to Christmas.
Today I want to share some ideas for boosting your sales in Quarter 4. These strategies are perfect for small businesses, particularly those in the soap and skincare industry, but can be applied to any handmade or small business. As a small business owner I know how busy you are and how overwhelming it can seem at times and whilst these do all require some level of effort they are manageable, even if you pick just one or two ideas that it is a start. 
Having been extremely busy with a rebrand and new range of products this year I have absolutely nothing in place for generating more sales in the lead up to Christmas 2023 but I will be using the first 4 of these tips to make the most of the upcoming flurry of festive sales.
1. Create Gift Vouchers
First, consider creating gift vouchers for your products. You can easily design these using Canva and then feature them on your website and social media. It's a quick and convenient way for potential customers to find the perfect gift for a friend or family member. However, remember to establish clear terms and conditions, including expiry dates and restrictions to suit you and your business.
2. Create Gift Sets
Gift sets are goldmines during the festive season. Even if you don't have specific Christmas-themed products, you can still assemble attractive gift sets by creatively packaging your existing products. Use boxes, labels, and decorative elements to make them look festive and appealing.
I have been so busy with my rebrand this year that I have nothing new to offer at all and that hasn't been a problem. I've created a variety of gift sets from my existing products with just a bit of added flair and some nifty descriptions. A dried orange slice, some botanicals and a star anise will transform even the most boring of brown boxes. 
3. Gift Catalogues
Produce a gift catalogue with ideas for your customers to peruse. This will simplify their shopping experience and inspire them to make purchases. You can create one in Canva and you can add images, descriptions, and pricing make it super simple for your customers. Once you have created it email it out to your list , if you don't have one then talk about it on social media and show pictures of it, suggest that if your followers would like a copy they drop you a message. 
4. Utilise Social Media
Make use of social media, even if you're not a huge fan of it. I am not a fan but I do recognise that it has it's place. Share updates about your daily activities, products, and behind-the-scenes glimpses of your business. Consider posting videos or going live as it adds a personal touch and creates engagement with your audience. Additionally, share Christmas traditions, recipes, and DIY gift ideas on your profiles to keep your audience interested and chatting to you. 
5. Explore Pop-Up Locations
While I'm not personally implementing this strategy, it can be extremely effective for new businesses. Consider setting up pop-up shops or displays in non-competitive, local locations. Collaborate with establishments like independent garden centres, cafes, or farm shops to sell your products. This mutually beneficial arrangement can introduce your brand to new customers and offer them a unique shopping experience. Think outside of the box when looking for a suitable location. Ideally you want to be somewhere that is not selling anything else similar so a busy cafe with no nearby shops could be a great option especially if it is frequented by your ideal customer.
In these final months of the year, you still have time to implement these strategies, even if you only choose a couple of them. Gift sets and gift catalogues would be my top 2. 
Want to hear a bit more about this and see examples of my gift catalogue and gift sets? Pop over to You Tube and watch this episode. 
Leave a comment (all fields required)
Comments will be approved before showing up.